Visualisation of the 6502; awesome pictures – via: mos6502 – Google+
Posted by jpluimers on 2015/02/21
visual6502 pictures via: mos6502 – Google+.
I've edited their post below to embed all the links.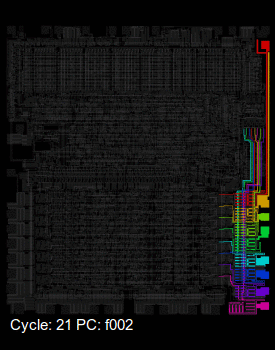 –jeroen
Original post with embedded links and edited for readablity:
This week, a new visualisation of the 6502, upcycled from an old favourite. Xray6502 uses the data from the visual6502 project to animate the flow of data values around the chip in rainbow colours. Wladimir has put the code up on github[1], and shared some animations on the 6502 forums too – see our featured link.

You may know that visual6502 is a transistor-level simulation of the NMOS 6502 for your browser.  We still see it referenced from time to time[2][3], to explore the circuit and to illustrate exact cycle by cycle behaviour of the chip, and also used to teach the workings of microprocessors in universities[4…7].  It first saw daylight when Greg James presented his findings at SIGGRAPH back in 2010[8], but Greg had been tracing the circuit for much of the previous year. Barry and Brian Silverman had been constructing the circuit simulator and the presentation as a web site. Later that year visual6502.org went live, and went through a series of performance improvements, enhancements and a few bug fixes. It now hosts several simulations, a wiki of notes about the 6502, and several other die photos.

Because visual6502 is open source, it's been used before for related projects: Michael Steil has published perfect6502[9] which is a C port of the simulation.  Elsewhere we find visual2A03[10] which expands the simulation to the CPU chip in the NES. (But note, to save on duplicated effort, this is a real 6502 simulated, not the one with decimal mode ripped out[11] which is actually in the chip.)

Now Wladimir joins in, with this data-tracing visualisation – what can we expect next?  Have you played with your visual6502 today?

via mos6502 – Google+.